The DigiCorpus Performance Trainer
Members Train with Feedback – without a Personal Trainer.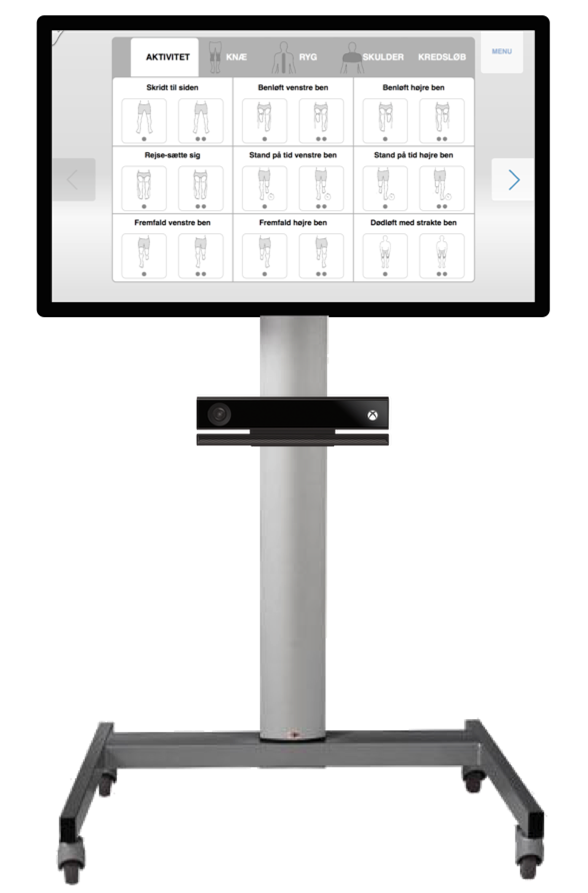 Offers Strenght Training and prevent injuries, common to activities such as Running, Cycling, Skiing and Triathlon, and occupies only 0,5 m2 of floor space.
Feedback during and after Training - The unique feedback system has been developed in close cooperation with physiotherapists. The member gets instant feedback, which closely simulates feedback from a personal trainer.
The Performance Trainer tracks the members movements using the camera situated below the screen, and the system is operated with gestures, using either hand.
Operation is Simple:
Select an exercise
Perform the exercise with simultaneous feedback
See the results of the training, including specific areas of focus
Optimal Training - After performing an exercise, the user receives a summary of the three most relevant focus areas for optimal improvement of the exercises.
Training Programs
- The
DigiCorpus Dashboard
makes it possible to generate statistics on usage of the machine, and to create Exercise Programs.
Exercises and Updates
Exercises - DigiCorpus Performance Trainer contains more than 250 exercises in the areas of:
Activity Exercises
Knee Exercises
Back Exercises
Shoulder Exercises
Cardio Exercises
Easy Setup and Continuous Automatic Updates - The Performance Trainer needs only a power outlet, and will update itself continually and automatically with new exercises via the Internet.
Instructions - The illustrated Quick Start Guide is situated on the back of the unit.
Floor Space - occupies only 0,5 m2 of floor space.